Main Menu
Navigation
Login
RTQ News
Player Stories
Player Art
Logged in Website
There are 0 registered users online.

You are an anonymous user. You can register for free by clicking here

Languages
Category: Website
The news items published under this category are as follows.

Website: Tailoring Tryst

On Thursday, May 07, 2009 Memna wrote :
It was another lovely day in Oberin. I had journeyed far and found a resting place in Marali where I intended to spend the next few hours or so improving my alchemy skills. I had just stored all my newly cleaned bottles and was getting ready to leave the bank and head towards the inn to freshen up when a finely dressed stranger walked in...




Read full article: 'Tailoring Tryst'
Website: Journey to the Island Chain of Jinker
On Sunday, March 29, 2009 Robear wrote :
Under the pale light of the last quarter of the Growing Moon a young respectable ranger named Robear searched for his closest kin Maingloe. It was during the Great Festival of Mirith and the finest and bravest in the land had gathered to hear what King Galandir was to announce........
but Robear and Maingloe had other plans, a journey to the furthest most remote island in Oberin, the mythical Jinker Island........





Read full article: 'Journey to the Island Chain of Jinker'
Website: Forest Dragon Family
On Monday, December 22, 2008 Flingee wrote :
Once upon a time...
...there was this land full with life and many interesting mighty creatures. The woods were great and lush. One of the mightiest creatures were the Forest Dragons. Most of them could fly but not the little ones - the dragon kids. This story is about a dragon mom and her cute kids in the forgotten woods far far away deep inside the wilderness.

On one sunny morning the dragon mother Carissha awoke and carefully prodded her two kids with her big green snout to wake them up, too.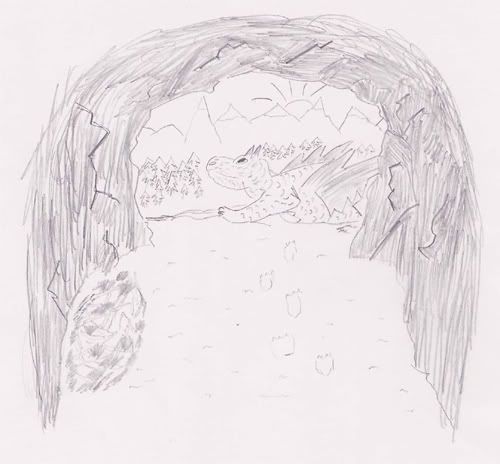 "Uh ohh", Atarrho squinted against the sun and stretched in a long bending. While his sister Catalhia tried to stand up close to him Atarrho turned by mistake against her and both crashed into their nest again. Carissha chuckled and small flames shot out of her nostrils. The morning was already busy with much life outside of their grass-covered hill. Their mom hissed: "Atarrho and Catalhia, we will make a trip today to the western waterfalls of the great lake. Soon you both will see what else is strolling between our ancient trees. You should know all these creatures."
A word and a blow they wandered the path through the powerful forest.
Before they reached the waterfalls Atarrho ran many steps in front of his mom and sister happily waggling his little scaly tail.




Suddenly he heard foreign sounds. Along the shore of the great lake near the waterfalls some creatures tried just to catch or do something he didnt understand. They were mumbling loudly and slapping with their weapons and claws into the water.
While he was watching it he was amused and began to giggling and hissing.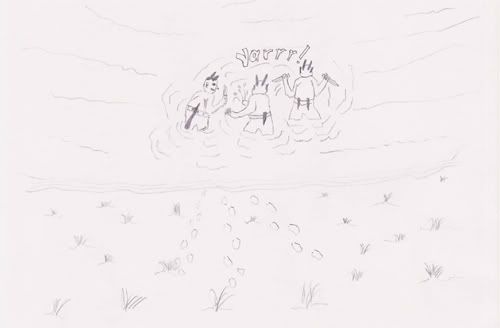 These creatures were Forest Trolls who had their diffculties catching delicious rainbow trouts. As Atarrhos sound began to get louder one Troll noticed his giggle and alarmed his buddies. Two of those three turned around with sharp daggers in their claws targeting Atarrho. One of these both grunted:"Our lunch is saved!" Slowly turning to the shore both wondered where their third buddy was:"Caprarhhh! Come here to usss! Dinnerrr is waiting!" The third shouted happily "I got one! I have a trout! Its miiiine!" He didnt notice what his pals were just doing and stabbed deep in the water bringing something out of the water. Unfortunately it wasnt a trout - it was something that slipped from his dagger.
While holding it in his claws the lake began to roaring. A mighty Sea Serpent broke out of the lake with a loud hissing voice looking to her end of her tail which was hurted by this silly Troll. The Serpent slipped down to him from eye to eye. An "Erh..." came out of the Troll mouth and the Serpent ate him up with one fast mighty bite.




The other Trolls stumbled out of the water running headless along the beach trying to find fastly a suitable hideaway:"Show mercy! Don't kill us!"
Carissha the mom dragon arrived just this place with her daughter Catalhia. The Serpent hissed to her:"What a sunny day Carissha. Just that good to pick up a good snack." Mom and the serpent winked and smiled to each other and the dragon family strolled further along the shore.
"Mom who is that?", Catalhia asked her. "These running bandits are nasty Forest Trolls and this Serpent is your aunt Emmie. Aunt Emmie and uncle Ommie live here since a long time. There was a time some of us decided to live only in forest, others in water, some inside the volcanos and a part in the ice caves. You will know all of them - time will make you wiser with a little help from me", she smiled and answered.

They had a nice day playing with aunt Emmie and their kids along the beach and the waterfalls.

As the day went by the kids got tired. Mommy dragon stretched their wings and put her kids on her back to get ready to fly back. With great elan she rose up into the sky. The moon was already over the far icy mountain tops as they saw some nicely lights at the ground. It was a little human village and it was the christmas time. Atarrho looked curios down and begged his mother to make another fly-around over this village: "Mommy? What are they doing there?". She smiled to her kids and answered "These two-legged humans are celebrating an old celebration. It is called christmas. Quite younger as our celebrations but well ñ they are humans."
"Ah. Chr-ist-mas!?".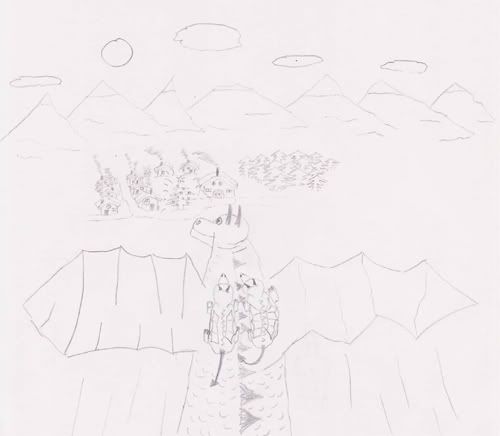 All three looked again down and the dragon family disappeared slowly like shadows in the clear cold evening sky.

Merry Christmas
Flingee and Avynar

P.S. Its a simple drawing. Im not a designer - its just for having fun to reading/seeing it ;-)